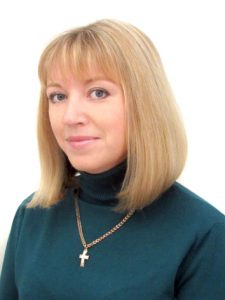 Dean of the Faculty of Veterinary Medicine – Candidate of Veterinary Sciences, Associate Professor Rodionova Kateryna Oleksandrivna
| | |
| --- | --- |
| Position | Full name |
| Deputy Dean for Research – Assistant Professor of the Department of Normal and Pathological Morphology and Forensic Veterinary Medicine | Іryna Zapeka |
| Manager of the Faculty of Veterinary Medicine and Biotechnology | Shipush Lina |
| Laboratory Assistant Faculty of Veterinary Medicine and Biotechnology | Nadezhda Semenchenko |
Everyone knows that veterinarians are animal doctors, but few wonder what a really important role they play in human life. And to this day the statement of the well-known doctor Yevseyenko SS, who in 1894 said: "Human medicine protects man, and veterinary medicine – preserves humanity" remains relevant.
Founded in 1938, the Faculty of Veterinary Medicine is one of the oldest faculties of the Odessa State Agrarian University. During its existence, the faculty has trained more than 7,000 veterinary doctors.
There are zoological, parasitological, anatomical and pathoanatomical museums, which feature many rare exhibits.
Specialists are trained in the following areas:
• "small animal diseases",
• "veterinary sanitation and veterinary and sanitary examination", 
• "laboratory work". 
During the study period students of our faculty master 52 disciplines, including 31 special vocational-oriented ones. During training and production practices in farms of different forms of ownership, students acquire professional skills.
The graduates of the faculty work in the bodies of state veterinary medicine, in district and city state veterinary hospitals, state laboratories of veterinary and sanitary examination on the markets, agricultural enterprises of different forms of ownership, on milk and meat processing enterprises, bio factories, specialized farms animals, veterinary clinics of small animals, as well as in secondary and higher educational establishments and research institutes of veterinary medicine.
Contact information 
Address: 65010, Odessa, str. Krasnova, 3a 
Phone: (048) 765-93-17 
E-mail: odau_vetmed@ukr.net